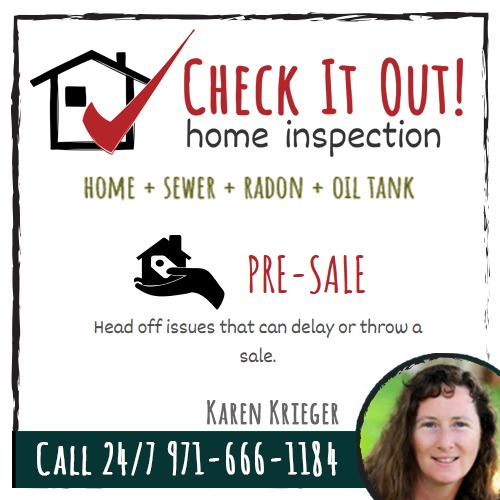 The market here in Portland seems like it *might* be tipping towards a buyer's market. Having a pre-listing home inspection can help you sell your home more quickly. The longer it takes to sell your home, the more it costs you. A pre-listing inspection will usually cost you far less than a
single month's house payment and utilities. 
Pre-Sale Repairs Can Save Time
Knowing what a buyer's inspector might find allows sellers to make repairs before listing a home for sale. If a buyer's inspection uncovers any major defects, this can lead to a new round of negotiations, or hold up closing while defects are repaired. Repairs made before negotiations can save time getting to the closing. 
Price Your House Appropriately
A pre-listing inspection will help your realtor price your house appropriately. For instance, roofs, heating and cooling systems, water heaters have limited life expectancies. Their age and condition weigh into the value of your home.
Save Time With Peace Of Mind
A home inspection service is a visual, noninvasive process where all of the items typically used within a home are tested and/or operated to verify proper operation or installation. Areas like the attic and the crawl space are places where defects quite often exist. But most homeowners never enter these spaces, so they are unaware of issues. For example, I find leaking plumbing in crawl spaces a lot, and it's very likely the homeowner doesn't even know the leak exists. Knowing that your home has been inspected from top to bottom minimizes surprises before your home is on the market. 
Full-Service Home Inspection Services
At Check It Out Home Inspection Services, we offer all the home inspection services you would expect, for example electrical, plumbing, roof, structure, interior, exterior, garage, and grounds, etc. (Go to the homepage of my website for a full list of home inspection services). We also offer One-Stop Shopping so you can schedule sewer scoping, radon testing, and oil tank searches 24/7 with a single click or call.
About Check It Out Home Inspection
I started Check It Out Home Inspection to apply my 15 years of carpentry experience to home inspections. I worked in both new construction and remodeling, so I know houses inside and out — framing, foundations, plumbing, electrical, windows & doors, HVAC, you name it. I am proud to serve the entire Portland metropolitan area as well as the southwestern Washington/Vancouver area.
I look forward to meeting you at the inspection! -Karen