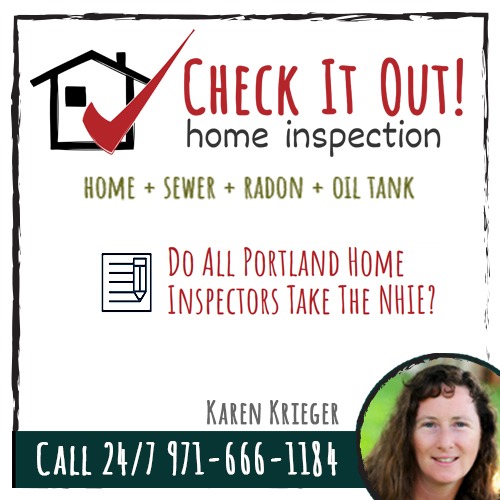 The National Home Inspector Exam (NHIE) ensures a consistent competency in Home Inspection. Home Inspection services in Oregon are regulated by the Oregon Construction Contractors Board. To become a certified home inspector in the State of Oregon, one of the requirements is to pass the NHIE.
WHAT DOES THE EXAM INCLUDE?
Building Science takes up 64% of the test, while Analysis and Reporting take up 24% of the test, leaving Professional Responsibilities with the remaining 12%. We go into further detail of each domain below.
Building Science in the Home Inspector Exam
This part of the exam measures a home inspector's ability to examine a site. This includes evaluating conditions, operability, materials, and installation practices of systems. These systems can include Electrical, Plumbing, Roof, Structure, Interior, Exterior, HVAC, Garage, and Grounds. This is the bulk of the test as this is the primary service a home inspector provides.
Analysis and Reporting in the Home Inspector Exam
Although this domain is smaller than Building Science it is still almost a quarter of the entire exam. This part measures a Home Inspector's ability to create a home inspection report. These reports include the building systems examined, the methods used during each examination, an analysis of systems that are not performing well, and recommendations for any actions recommended to correct problems.
Professional Responsibilities Tested in The Home Inspection Exam
Although only 12 percent of the NHIE covers professional responsibilities, it is a critical component to the home inspection industry. This will test a home inspector's understanding of the purpose of an inspection contract and clarifying the client's rights as well as the home inspector's rights. This part of the test also addresses an inspector's ethical and legal responsibilities.
The key point for this part of the exam is to remind all home inspectors of the high standards we hold for quality, integrity, and objectivity. The home inspector standards of behavior and standards of practice are so integral to the State of Oregon that they are listed in the Home Inspector Application Packet.
Full-Service Home Inspection Services
At Check It Out Home Inspection Services, we offer all the home inspection services you would expect, for example electrical, plumbing, roof, structure, interior, exterior, garage, and grounds, etc. (Go to the Check it Out Home Inspection homepage for a full list of home inspection services). We also offer One-Stop Shopping Home Inspection Services so you can schedule sewer scoping, radon testing, and oil tank searches 24/7 with a single click or call.
About Check It Out Home Inspection
I started Check It Out Home Inspection to apply my 15 years of carpentry experience to home inspections. I worked in both new construction and remodeling, so I know houses inside and out — framing, foundations, plumbing, electrical, windows & doors, HVAC, you name it. I am proud to serve the entire Portland metropolitan area as well as the southwestern Washington/Vancouver area.
I look forward to meeting you at the inspection! -Karen