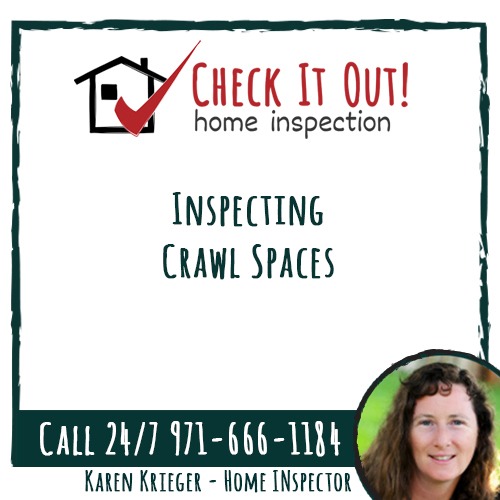 Schedule Regular Peace Of Mind Home Inspections In Portland
Owning a home in the Portland area is a huge responsibility. While there are of course many benefits to having a home that truly belongs to you, Portland homeowners must also be prepared to do maintenance on their homes. This is why it is important to schedule regular home inspections. Check It Out Home Inspection offers Portland locals professional home inspection services.
Inspecting Your Crawl Spaces
Check It Out Home Inspection thoroughly inspects your home top-to-bottom. One of the spaces we thoroughly inspect is your crawl spaces. There are a number of things that we look for in your crawl space. For example, if your crawl space is insulated, we can check the insulation in that area. We also look for any signs of rodents or insects to make sure you're not at risk for an infestation. Check It Out Home Inspection will make sure that the crawl space has proper ventilation and look for any signs of moisture penetration.
Having regular home inspections for your Portland home is important. Allow us to help you take care of your home through a thorough home inspection. Call Check It Out Home Inspection!
How Does The Coronavirus (COVID-19) Affect Home Inspections?
Check It Out Home Inspection is still offering Portland clients our home inspection services. We are, however, taking special safety precautions to keep both our home inspector as well as Portland clients and realtors safe during this trying time.
Full-Service Home Inspection Services
At Check It Out Home Inspection Services, we offer all the home inspection services you would expect, including electrical, plumbing, roof, structure, interior, exterior, garage, and grounds, etc. Go to the Check it Out Home Inspection homepage for a full list of home inspection services. We also offer One-Stop Shopping. Home Inspection Services so you can schedule sewer scoping, radon testing, and oil tank searches 24/7 with a single click or call. Schedule your home inspection online or by phone at 971-666-1184. Call today!
Check It Out Home Inspection provides service to the Greater Portland and Vancouver areas.