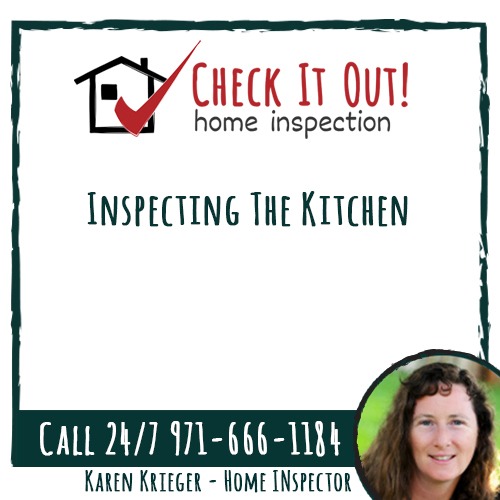 Check It Out Home Inspection Remains Open For Home Inspections
Portland locals, if you're in need of a professional home inspection either before closing on a house or to maintain a house you already own, you can rely on Check It Out Home Inspection. With the threat that the Corona Virus (COVID-19) poses, it is of the utmost importance to take caution and reduce the risk of exposure to others. As such, Check It Our Home Inspection will be adhering to safety protocols to reduce the risk of exposure to the Corona Virus (COVID-19). Click here to learn more about our Corona Virus (COVID-19) protocols.
Inspecting Your Kitchen
As part of our home inspection services, Check It Out Home Inspection performs a thorough inspection of your kitchen in addition to other areas of your home. By the end of a home inspection, Portland locals will know just which areas of a home need maintenance and how badly maintenance is needed.
While inspecting your kitchen, we will inspect the condition of the room itself (walls, floors, ceiling) safety, and function. As part of inspecting the kitchen, we will inspect the cabinets, counters, sink, faucets, electrical outlets, drain pipes, etc.  We will also inspect the appliances, such as your refrigerator, dishwasher, kitchen range, and food waste disposal. These are inspected on a pass/fail basis only. We will be looking for any signs of moisture damage, especially areas with plumbing. Regular home inspections can allow Portland homeowners to perform necessary maintenance before they develop more serious issues that could become costly to fix. Portland locals, for more information about kitchen inspections, you can read our sample inspection report.
Full-Service Home Inspection Services
At Check It Out Home Inspection Services, we offer all the home inspection services you would expect, including electrical, plumbing, roof, structure, interior, exterior, garage, and grounds, etc. Go to the Check it Out Home Inspection homepage for a full list of home inspection services. We also offer One-Stop Shopping. Home Inspection Services so you can schedule sewer scoping, radon testing, and oil tank searches 24/7 with a single click or call. Schedule your home inspection online or by phone at 971-666-1184. Call today!
Check It Out Home Inspection provides service to the Greater Portland and Vancouver areas.