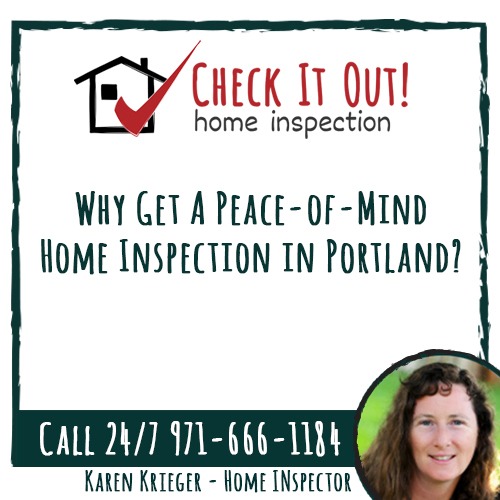 Doubtless, many Portland homeowners think of an official home inspection as something that usually happens before the purchase of a home. However, Check It Out Home Inspection also provides peace-of-mind inspections to Portland homeowners as well. These are also known as home maintenance inspections.
Why Opt For A Peace-Of-Mind Home Inspection?
Your Portland home requires maintenance from the roof to the basement, and a peace-of-mind home inspection will help you to know just which parts of your home need maintenance the most. A peace-of-mind home inspection will ease your worries about ongoing or impending house issues that could lead to costly repairs down the road if not handled soon. Additionally, peace-of-mind home inspections can help you plan ahead by knowing the typical life expectancy of the roof and HVAC. After a peace-of-mind home inspection, Portland homeowners know what to expect and can plan accordingly.
Portland Homeowners Will Receive an Easy-To-Read Report On Their Home's Condition Post-Inspection
Check It Out Home Inspection describes the condition of homes in Portland in an easy-to-read report. Portland homeowners will receive details on the condition of every major component — from the roof to the basement. The home inspection report includes an evaluation and description of the manually tested working order of most operable systems and a summary page that helps to prioritize items of concern such as major defects, deferred cost items (things that may need replacing/repairing within 5 years), safety issues, potential improvements, and items to monitor. Portland homeowners can view a home inspection sample report here.
About Check It Out Home Inspection
I started Check It Out Home Inspection to apply my 15 years of carpentry experience to home inspections. I worked in both new construction and remodeling, so I know houses inside and out — framing, foundations, plumbing, electrical, windows & doors, HVAC, you name it. I am proud to serve the entire Portland metropolitan area as well as the southwestern Washington/Vancouver area.
I look forward to meeting you at the inspection! -Karen
Full-Service Home Inspection Services
At Check It Out Home Inspection Services, we offer all the home inspection services you would expect, for example electrical, plumbing, roof, structure, interior, exterior, garage, and grounds, etc. (Go to the Check It Out Home Inspection homepage for a full list of home inspection services). We also offer One-Stop Shopping Home Inspection Services so you can schedule sewer scoping, radon testing, and oil tank searches 24/7 with a single click or call.
Check It Out Home Inspection provides service to the Greater Portland and Vancouver areas.