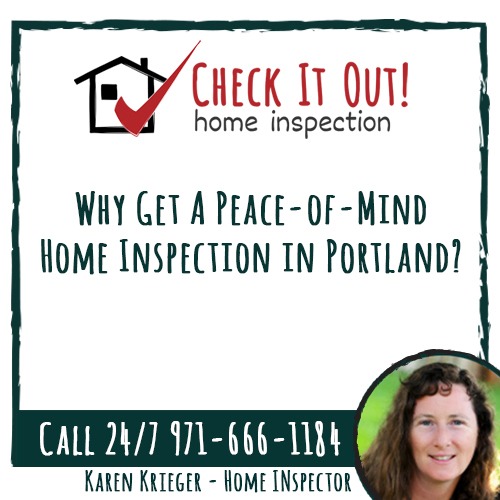 Do You Need Professional Home Inspection Services? 
Check It Out Home Inspection offers professional home inspection services in Portland. At Check It Out Home Inspection, we are proud to offer the people of Portland our services. When you need pre-purchase home inspection services, pre-sale home inspection services, or maintenance home inspection services, call on Check It Out Home Inspection. 
Why Should I Choose Check It Out Home Inspection? 
Our home inspection services are thorough and reliable. Don't just take our word for it, though. Check It Out Home Inspection rates highly with our past customers. Realtors often recommend Check It Out Home Inspection's services. Among the google reviews for Check It Out Home Inspections, realtors give our services five out of five stars.  
Esmeralda Callahan says of Check It Out Home Inspection's home inspector, Karen Krieger, "she [is] a wealth of knowledge and takes her time to look at all aspects and intricacies of a home." Callahan praises Karen's ability to connect with home buyers. "Whether they are first timers, have bought multiple times, or are contractors themselves, she is able to engage and bring value to each." 
AnnieRose Shapero, another realtor, says that Karen is both "knowledgeable … and good at educating." Karen will not only inspect your home but teach you what you need to know about home inspections and home maintenance to better understand the whole process. 
Ron Almberg says "I appreciate the time she takes with my clients to explain the things she sees and whether they are important issues to address." He also assures that "her home inspection reports are easy to understand." 
Realtors agree that Karen of Check It Out Home Inspection offers thorough professional home inspection services, and takes the time to make sure her clients understand the results of the home inspection. Portland locals will come away from our home inspection process with a better understanding of the condition of their home and what it needs to be successfully maintained. 
Full-Service Home Inspection Services 
At Check It Out Home Inspection Services, we offer all the home inspection services you would expect, including electrical, plumbing, roof, structure, interior, exterior, garage, and grounds, etc. Go to the Check it Out Home Inspection homepage for a full list of home inspection services. We also offer One-Stop Shopping. Home Inspection Services so you can schedule sewer scoping, radon testing, and oil tank searches 24/7 with a single click or call. Schedule your home inspection online or by phone at 971-666-1184. Call today! 
Check It Out Home Inspection provides service to the Greater Portland and Vancouver areas.