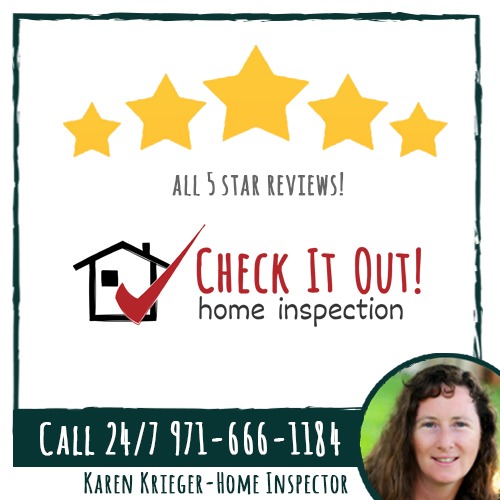 My Past Success in Home Inspection
When I rebooted my home inspection business in Portland, Oregon, I had many 5-star reviews on Google and Yelp from the years I worked in south-central Washington. With so much competition here, I was not sure how I would be received in the Portland Metro area (including Vancouver, WA).
Check It Out Home Inspection Today
I have had the good fortune to work with so many capable, professional, well-respected realtors, and fantastic clients as well. I have been genuinely touched by the amazing positive feedback I have gotten in many ways, including (I feel proud to say) even more 5-star reviews.
Looking to the Future
I truly value the faith you have put in my work, and I will continue working hard to keep your trust, respect, and business! As always, I provide thorough, unbiased, home inspection reports that reflect my dedication to my job and the needs of my clients.
Your Kind Words and Reviews
I've copied a few of the home inspection reviews below:
"Karen is an excellent inspector with extensive knowledge of home building and condition standards. She has inspected several homes for multiple clients and has always been effective, efficient and qualified. I highly recommend working with Karen."
–Matt Williams
Bison Properties
"As a Realtor, I recommend Karen to all my clients. She's so knowledgeable–and good at educating. I've learned a ton from her about where problems can arise, and she explains the inspection reports at the knowledge level of where my folks are and takes as much time as needed to answer their questions. Inspections are one of the scariest times when purchasing a home, and after my clients have been through inspections with Karen, I see them confident that they have a firm idea of what level of project they could be taking on and know where more info is needed."
–Annie Rose Shapero
Portlandia Properties, LLC
"I recommend Karen Krieger of Check It Out Home Inspection to my Real Estate Buyers regularly. She is thorough and knowledgeable in her home inspections. Clients often do not know much about structure and systems of houses, and Karen is very good at explaining and educating. Her reports are clear and informative, and she is readily available for follow up questions. Her information greatly helps in the process of negotiating a real estate transactions and Home Buyers are better equipped for homeownership after working with Karen."
–Holly Burton
Urban Nest Realty
One-Stop Shopping for Home Inspection Services
At Check It Out Home Inspection Services, we offer all the home inspection services you would expect; Electrical, Plumbing, Roof, Structure, Interior, Exterior, HVAC, Garage, and Grounds (see our full list of home inspection Services). We also offer One-Stop Shopping where you can schedule sewer scoping, radon testing, and oil tank searches 24/7 with a single click or call.