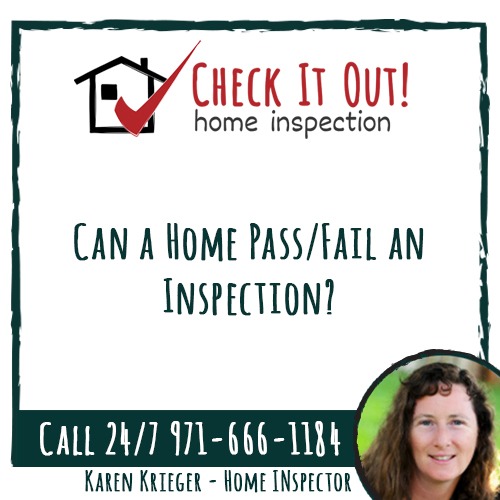 Can a Home Pass/Fail an Inspection?
The short answer is no. Home inspections are not based on a pass or fail evaluation. 
Think of it as a physical exam for your home. You can't fail a physical exam—even if you are not as healthy as you should be. The purpose of a home inspection is to determine the current condition of your home. 
A home inspection is not an appraisal, which determines market value. It is not a municipal inspection, which verifies local code compliance. A home inspector is hired to describe a home's physical condition and indicate what components and systems may need maintenance or major repair/ replacement. A home inspector will also identify health and safety issues. 
What Does a Home Inspector Inspect?
A home inspector checks areas, components, and systems. Areas of inspection include Grounds, Exterior, Attic, Kitchen, Interior, Crawl Space, Basement, and Garage. Mechanical systems inspected include Electrical, Heating, Structure, and Plumbing. 
How Does a Home Inspector Evaluate?
A home inspection is a visual, noninvasive examination. Items can be determined between a spectrum of being serviceable, fair, poor or defective. Serviceable means it is functional with no obvious signs of defect. Fair condition means it is functional but has some signs of age/use. Defective means the item needs immediate repair or replacement. Items can also be described as not present or not inspected. Usually, uninspected items are due to safety reasons or due to lack of power,  are inaccessible, or disconnected at the time of inspection.
What Does a Home Inspection Report Look Like?
Click to see a sample home inspection report. A home inspection report is a very detailed report on the condition of the entire home. While each report style may differ from inspector to inspector, they will all document the day, time, address, people present, and weather conditions. The bulk of the report goes through each of the areas and systems providing photos and text to describe conditions found. 
How Do I Find a Home Inspector?
Most Home Inspectors are recommended by your real estate agent. Your agent may also provide you with a few suggestions to pick from. It is in the best interest of all parties involved to get a neutral home inspection. Again, a home inspection is not about pass or fail. It is about identifying the current condition of the home and identify any issues before the purchase of a home. 
Full-Service Home Inspection Services
At Check It Out Home Inspection Services, we offer all the home inspection services you would expect, for example electrical, plumbing, roof, structure, interior, exterior, garage, and grounds, etc. (Go to the Check it Out Home Inspection homepage for a full list of home inspection services). We also offer One-Stop Shopping Home Inspection Services so you can schedule sewer scoping, radon testing, and oil tank searches 24/7 with a single click or call.  
Check It Out Home Inspection provides service to the Greater Portland and Vancouver areas.