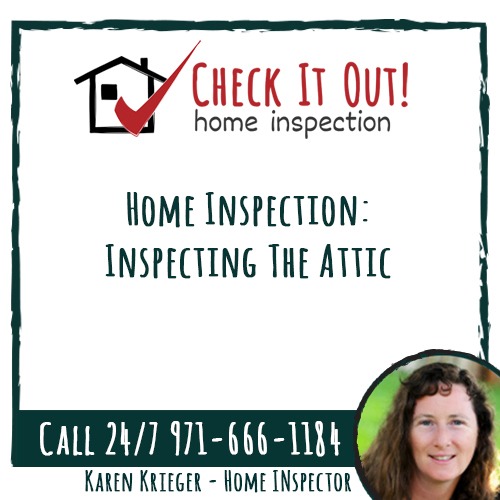 Be Sure To Schedule Regular Home Inspections
Portland homeowners, just because you've closed on your Portland home doesn't mean that home inspections are a thing of the past. Portland homeowners should be ready to schedule professional home inspections every few years. This helps Portland homeowners keep up with which parts of their home need maintenance. When you're in need of a home inspection service in Portland, rely on Check It Out Home Inspection.
Inspecting The Attic
Check It Out Home Inspection offers thorough and professional home inspection services. We carefully go over each area of your home, noting which areas of your home need maintenance and how badly it needs maintenance. One of the areas we check is the attic of your Portland home.
In attic spaces, Check It Out Home Inspection inspects for issues with the roof framing and sheathing. We look for any signs of moisture penetration. Additionally, we check ventilation and make sure that vents aren't blocked. We will check the amount and condition of your insulation and wiring. If there are any signs of rodents or insects, we will make note of it. We also check for mold and mildew on the bottom side of the roof sheathing. This is common in older homes in the Pacific Northwest due to poor ventilation and condensation. Portland homeowners can read more examples of what may be found during an attic inspection on our sample inspection report.
Full-Service Home Inspection Services
At Check It Out Home Inspection Services, we offer all the home inspection services you would expect, including electrical, plumbing, roof, structure, interior, exterior, garage, and grounds, etc. Go to the Check it Out Home Inspection homepage for a full list of home inspection services. We also offer One-Stop Shopping. Home Inspection Services so you can schedule sewer scoping, radon testing, and oil tank searches 24/7 with a single click or call. Schedule your home inspection online or by phone at 971-666-1184. Call today!
Check It Out Home Inspection provides service to the Greater Portland and Vancouver areas.