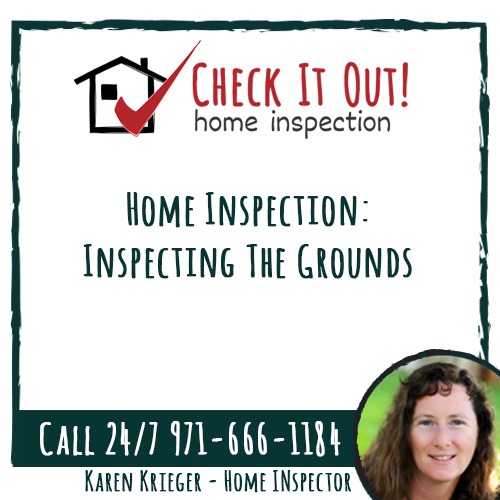 Portland Locals Can Rely On Check It Out Home Inspection
Check It Out Home Inspection is dedicated to bringing professional home inspection services to the people of Portland. Whether you're in need of a pre-purchase home inspection before closing the deal on a new home or need ta regular, routine peace-of-mind home inspection, Check It Out Home Inspection can help.
Reading The Inspection Report
Portland locals who have received a home inspection can expert a full report of all that was inspected. It could be helped for Portland homeowners to familiarize themselves with the home inspection definitions that are used in a typical inspection report.
Inspecting The Grounds
One of the things we will inspect when we come to your Portland home is the grounds. Inspecting the grounds includes inspecting the following:
Walkways
Railings
Driveways
Steps
Patios
Decks
Grade around the home
Deck and patio covers
After inspecting each of these areas, we will make a note in the inspection report of the condition. We will grade each item on if it is serviceable, in need of maintenance, in poor or fair condition, defective, or is a safety concern. For example, we take note of tripping hazards, moisture damaged decks, steps, and railings. The inspection report will then let you know of each issue so you can determine how best to handle the overall maintenance of your Portland home's grounds.
Read more examples of what may be found during a grounds inspection on our sample inspection report. Check It Out Home Inspection is ready to bring through and professional home inspection services to Portland.
Full-Service Home Inspection Services
At Check It Out Home Inspection Services, we offer all the home inspection services you would expect, including electrical, plumbing, roof, structure, interior, exterior, garage, and grounds, etc. Go to the Check it Out Home Inspection homepage for a full list of home inspection services. We also offer One-Stop Shopping. Home Inspection Services so you can schedule sewer scoping, radon testing, and oil tank searches 24/7 with a single click or call. Schedule your home inspection online or by phone at 971-666-1184. Call today!
Check It Out Home Inspection provides service to the Greater Portland and Vancouver areas.