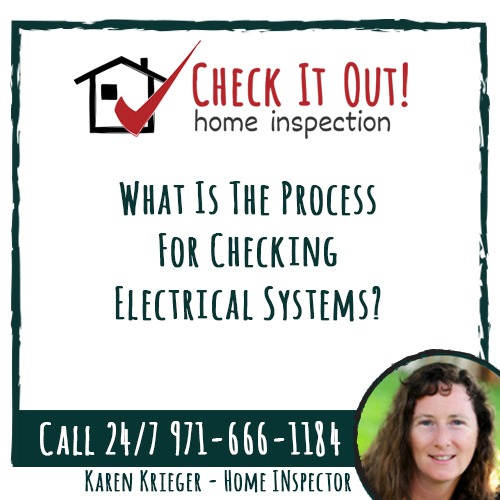 Check It Out Home Inspection Brings Professional Home Inspection Services
Check It Out Home Inspections offers thorough, professional home inspection services in Portland. Need to assess the condition of a home before you buy it with a pre-purchase home inspection? Want to put your mind at ease about your home's current condition with a peace-of-mind home inspection? Call on Check It Out Home Inspection today!
Inspecting Your Portland Home's Electrical Systems
One of the systems that Check It Out Home Inspection will assess the condition of in your Portland home is the electrical system. After all, we are very dependent on the electrical system of our home. You need electricity to run your appliances, to watch television, to work on your computer, etc. It is crucial that your Portland home's electrical system works properly and safely.
How Does Check It Out Home Inspection Inspect The Electrical System?
Check It Out Home Inspection will perform a thorough inspection of your home's electrical system. The electrical inspection involves inspecting the service entrance and breaker box for proper sizing of breakers and circuits. We will look for potential issues with grounding. Then, we assess circuits and wiring for general condition, signs of arcing, proper wire sizing, grounding, and proper installation of GFCI outlets. Portland homeowners can rest assured that Check It Out Home Inspection will give the client a comprehensive report on the condition of every aspect of their electrical system.
Full-Service Home Inspection Services
At Check It Out Home Inspection Services, we offer all the home inspection services you would expect, including electrical, plumbing, roof, structure, interior, exterior, garage, and grounds, etc. Go to the Check it Out Home Inspection homepage for a full list of home inspection services. We also offer One-Stop Shopping. Home Inspection Services so you can schedule sewer scoping, radon testing, and oil tank searches 24/7 with a single click or call. Schedule your home inspection online or by phone at 971-666-1184. Call today!
Check It Out Home Inspection provides service to the Greater Portland and Vancouver areas.