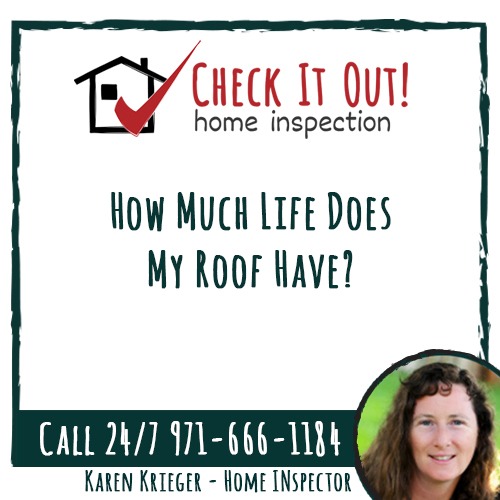 Whether you're in need of a peace-of-mind home inspection or a pre-purchase home inspection, an important aspect of any home inspection in Portland is inspecting the roof. During the roof inspection portion of a home inspection, Check It Out Home Inspection will:
Inspect shingles and flashing for proper installation and signs of failure or possible leakage.
Inspect skylights, vents, and other penetrations.
Confirm safe clearances to trees and utility services lines.
Roof Life Expectancy
A home inspection from Check It Out Home Inspection will let Portland homeowners know the life expectancy of the roof material and the roof's general condition. Portland homeowners should keep in mind that, depending on the quality and material of their roof, roofs in Portland generally last for a period of 20-25 years. With Portland's wet weather, delaying roof repairs or replacement can lead to many problems.
A lot of variables impact the life expectancy of a roof. The type of material, exposure, pitch, attic venting, number of roof layers, etc., are all varying factors.
How To Tell Your Roof Is Approaching The End Of Its Useful Life
A few common signs that the end of your roof's useful life is approaching include:
Missing shingles
Curling or lifted shingles
Exposed fiberglass at the edges of shingles
Damaged rubber vent boots
Corroded flashings
Shingles not sealed to each other
About Check It Out Home Inspection
I started Check It Out Home Inspection to apply my 15 years of carpentry experience to home inspections. I worked in both new construction and remodeling, so I know houses inside and out — framing, foundations, plumbing, electrical, windows & doors, HVAC, you name it. I am proud to serve the entire Portland metropolitan area as well as the southwestern Washington/Vancouver area.
I look forward to meeting you at the inspection! -Karen
Full-Service Home Inspection Services
At Check It Out Home Inspection Services, we offer all the home inspection services you would expect, for example electrical, plumbing, roof, structure, interior, exterior, garage, and grounds, etc. (Go to the Check it Out Home Inspection homepage for a full list of home inspection services). We also offer One-Stop Shopping Home Inspection Services so you can schedule sewer scoping, radon testing, and oil tank searches 24/7 with a single click or call.
Check It Out Home Inspection provides service to the Greater Portland and Vancouver areas.