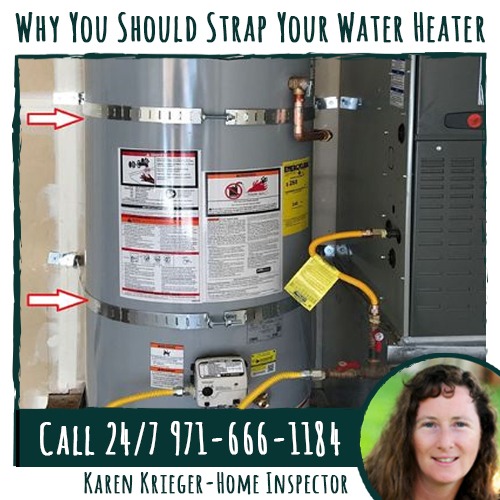 Oregon building code requires that water heaters be secured with "seismic strapping" so they don't topple in an earthquake. Here are three reasons why this is important for you and your clients.
1. Banks require seismic strapping.
Banks will not approve a loan unless the water heaters are secured correctly. I always make sure agents know when straps are missing so they can be installed before a home appraisal. If straps are not in place when the appraiser comes, they may have to come back for a fee.
2. Falling water heaters are a dangerous hazard.
Almost all water heaters are powered by gas or high-voltage electricity. If an earthquake knocks over an electric tank, wires could snap, which would damage your electrical system or even start a fire. If a gas tank falls over, the gas line could break, and you would have a severe gas leak: another risk for fire, or worse, an explosion. In a crisis, you would have a hard time finding someone to repair these vital systems.
3. Water is your most important resource in a crisis.
Even if your water supply is cut off after an earthquake, your water heater will be holding 50 gallons (on average) of potable water. Experts say that each person will need a minimum of 1 gallon of water per day for drinking and washing. So a family of 3 would require 42 gallons for two weeks. If your water heater is damaged, then you lose this precious resource.
Seismic strapping on water heaters can save lives. You can count on me to not miss this essential safety item.
One-Stop Shopping for Home Inspection Services
At Check It Out Home Inspection Services, we offer all the home inspection services you would expect; Electrical, Plumbing, Roof, Structure, Interior, Exterior, HVAC, Garage, and Grounds (see our full list of home inspection Services). We also offer One-Stop Shopping where you can schedule sewer scoping, radon testing, and oil tank searches 24/7 with a single click or call.