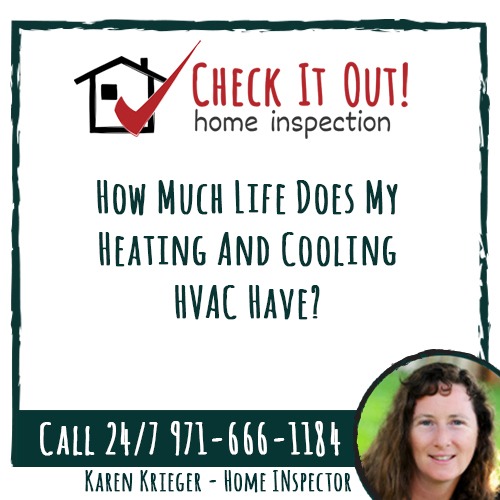 Check It Out Home Inspection offers peace-of-mind and home inspections for buyers and sellers. Whether you're looking for vital information about the overall condition of the home prior to a sale, or simply want to ease your worries about ongoing or impending house issues, Check It Out Home Inspections offers experienced and professional services.
Learn About the Life Expectancy of Your HVAC
With Check It Out Home Inspection's services, Portland homeowners can learn about the average life expectancy of their HVAC system. Check It Out Home Inspection will test heating and cooling equipment, including furnaces, air conditioners, heat pumps, and gas fireplaces. Check It Out Home Inspection will also check for short cycling, look for proper handling of condensate, inspect insulation in unfinished accessible spaces such as attics, crawlspaces, and basements, and inspect fireplaces and chimneys for potential risks. After inspections are complete, Portland homeowners will know what to reasonably expect from their HVAC and be better prepared for the future.
About Check It Out Home Inspection
I started Check It Out Home Inspection to apply my 15 years of carpentry experience to home inspections. I worked in both new construction and remodeling, so I know houses inside and out — framing, foundations, plumbing, electrical, windows & doors, HVAC, you name it. I am proud to serve the entire Portland metropolitan area as well as the southwestern Washington/Vancouver area.
I look forward to meeting you at the inspection! -Karen
Full-Service Home Inspection Services
At Check It Out Home Inspection Services, we offer all the home inspection services you would expect, for example electrical, plumbing, roof, structure, interior, exterior, garage, and grounds, etc. (Go to the Check it Out Home Inspection homepage for a full list of home inspection services). We also offer One-Stop Shopping Home Inspection Services so you can schedule sewer scoping, radon testing, and oil tank searches 24/7 with a single click or call.
Check It Out Home Inspection provides service to the Greater Portland and Vancouver areas.